BMCC has two kit liveries blue and hi-viz and for 2019 a special white 125-year anniversary short sleeve jersey.
Our current manufacturer is Kalas, https://www.kalas.co.uk/
We open eshops on the Kalas website about every 3 months where you can order jerseys, shorts, tights and skin suits. The shop stays open for two weeks and the kit is delivered 6 weeks after the shop closes. You order and pay on the Kalas website.
Kalas eshop addresses:
http://myshop.kalaswear.eu/brightonmitrecc/login
http://myshop.kalaswear.eu/brightonmitrecchiviz/login
Password:bmcc321
The size guide on the Kalas website is quite accurate. We don't keep samples to try on for size but you can ask clubmates to try their stuff on.
The kit is delivered to Paul Hulse brightonmitrekit@gmail.com who arranges distribution.
We keep accessories such as arm, knee and leg warmers, caps, track mitts, shoe covers and buffs in stock. We also have BMCC tea mugs and bidons. If you would like something, please email Paul Hulse at brightonmitrekit@gmail.com and he'll send you a PayPal invoice which can be paid with card or PayPal.
Latest Kit Shop Open: 16/04/2019
Latest Kit Shop Close: 28/04/2019
Delivery Expected: w/c 25/06/2019
Next Kit Shop Opens: 15/07/2019
White anniversary Jersey.
The opportunity to order one of these has now passed-sorry.
Hi-Viz Kit examples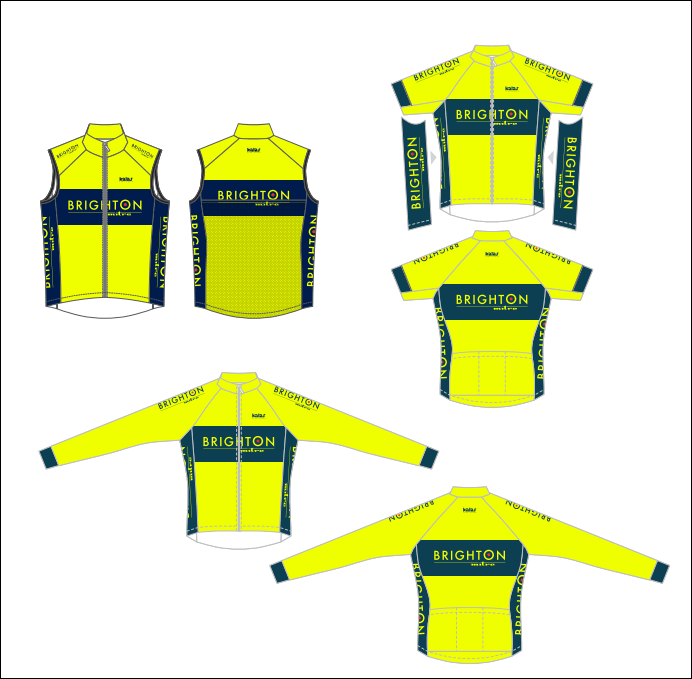 Club kit and race kit examples
125th anniversary kit examples (note 125 kit is short sleeve only)