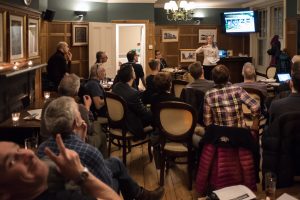 The Brighton Mitre AGM took place at the Hove Ale & Smoke House on Friday 27 January 2017. A full report of the meeting is available to download here: BMCC AGM January 2017 web.
Road racing (Mike Coyle)
A full race calendar for 2017 will be posted to the website soon
Given the changing profile of the club's membership, some people might want to consider taking part in LVRC (League of Veteran Racing Cyclists) events
Time Trial (Robin Johnson)
2016 was a good year for Mitre time trialists, with new club 15-mile records set by Kat Avramides and Mike Coyle
Thanks to Ray Smith and Tristan Court for their help with club events – but more volunteers are needed so please consider helping out
Objective for 2017: to increase numbers in Mitre events – come along, you might even enjoy it!
Cyclo-cross (Dan Fagg)
Entries are up, with more people racing cross than road this season
Congratulations to Sarah Phelps, who won the Sussex League's women's league
Communications (Martin Thomas)
The website has been rebranded, cleaned up and moved to a new host
The newsletter has proved popular – please check your spam folders if you're not receiving it
Objective for 2017: to improve the way we communicate about races, events etc to give people more time to respond
Women's Membership Development (Alison Lewis)
12% of current membership are women – on a par with other clubs
CATI and Sunday social rides have proved popular – request for more volunteers to help run them
10 BMCC women took part in London Women's Racing League race training day at Gravesend CycloPark
Eastbourne Summer Crits 2016 was a great success for BMCC women and as a result they'll be running another women's race in 2017
Preston Park training and coaching sessions in the summer were also successful
Alison now reaching out to other local clubs to find ways of collaborating
Treasurer (Simon Dowling)
Club funds in (2016): £15,786
Club funds out (2016): £12,047
Subscriptions account for £3,184 of BMCC income
Track (vacant post)
19 April marks the start of the Wednesday night track races at Preston Park – the series runs for 18 weeks
In order to take part you must have completed a track accreditation session – look out for more details in the newsletter or on the SCRL website
Election of committee members
Incumbent committee members to stay in their roles
Social Secretary and Membership Secretary roles to be shared by Tony Milsom and Alex McLaren
Track Secretary role to be shared by Alan Newman and Jack Smith
Membership Survey (Elaine Burroughs)
Results shared, along with various proposals – including the idea of sharing winter turbo sessions with another club (Excelsior?)
Tony Milsom & Alex McLaren shared initial ideas for social events, including watching spring classics & strade bianchi, visiting Roubaix for the finish of the Paris-Roubaix, midweek social rides once the clocks go forward, Newhaven night ferry rides, longer summer social rides etc.
AOB (all)
Discussion around how to improve numbers of BMCC members who race
Proposal of donating excess funds to cycling-related charities