Brighton Mitre 2019 Spring training camp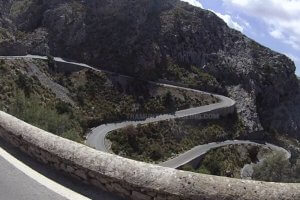 For social riders and racing snakes
Port de Pollenca, Mallorca, Spain
Sunday 31st March to  Saturday 6th April 2019
£299 Excluding flights and bike box/hire
£149  deposit to secure your place 
key features
6 nights and 7 days riding 
Port de Pollenca – best location for cycling Mallorca's famous routes and iconic climbs (puig major, sa colabra etc.)
Half board at the four star aparthotel duva (see below)
The price is based upon two people sharing a twin bed apartment 
Use of the hotels fitness and spa centre 
Bike rental within hotel ( pro bike hire)
Secure bike storage
A different route for everyday with GPX /TCX supplied
A brilliant week with your mitre mates old and new
Support car for rescues and feed stops on longer routes
We will be self guiding
Routes to Include sa colabra, Cap de Formentor, tramuntana cost road, Coll de Femenia and Puig Major, Coll de Soller and probably the flat route out to one of the Monasteries perched on the top of a hill
Optional EXTRA
Bus-out-ride-back ride from Andratx to Pollenca 115km 2400m climbing – the best bit of the Mallorca 312 in reverse (Transport arranged to start ) note there are many easier ways than the full 2400m
Massage available at extra cost in the hotel
Flights
The quicker Deposits are placed the quicker we can book and secure low price flights before they go up
Likely to use EasyJet
Flying out EARLY Sunday 31st
Flying back Early Evening Saturday 6th
Whats different from last time
Taking on all the feedback from Calpe, a few tweaks have been made.

We are self leading. (as a club we are good at this)
We are self organising – this reduces costs
The food should be better
There are options for flatter rides / recovery days
We have excursions!
We have rescue cover everyday
Important
All costs and dates are dependant on sufficient numbers
Early payment of deposits secures the hotel and cheap flights
The hotel will not guarantee booking until the deposits are paid
We must all book on the same flight to secure the transfer (arrive on a different plane you are on your own)
Please pay £49 to Rider HQ initially and I will PM you for more
This is being facilitated by the club – we're not a tour operator
Then pay £100 to BMCC – I will send an email with bank details
The Hotel
ApartHotel Duva  2 sharing twin bed apartments
In the beautiful surroundings in Pollensa at the base of the Tramuntana mountain range is situated in a ideally area for CYCLISTS.  
The gardens, terraces, swimming pools, bars and restaurants, together with the health & beauty facilities of our SPA, plus the gym and the 3 tennis courts and 3 glass paddle courts, makes for one of the best choices for personal care in the Port of Pollensa.
Our complex is a destination for people who appreciate a family environment, good food, and personalised treatment.
The bright and comfortable reception, invites you to use of all the different areas and services and it encourages you to explore the attractive gardens of our peaceful setting.
Our security facilities includes: special repairing & cleaning area, 10 separate storage cages (20 bikes x cage) with a total capacity of 300 bicycle, CCTV, washing machine & drier.
Cycling & routing backup services. Self service nutritional buffet & Sportive massage service. Our location in the outskirts of the town with plenty availability of parking let you keep secured all your vehicle and items.
Prices for cyclist groups include the use of our CLUB DUVA FITNESS & SPA CENTER, open all year around, where is an indoor pool, jaccuzi, sauna, steam bath, static cycling room, aerobic, pilates, tennis & paddle courts. 
All our apartments are designed to comfortably accommodate 2 persons, with secure electronic keys, programmable safety deposit box, direct telephone, satellite TV, radio and music channel, air conditioning and heating, furnished terraces with good views, kitchenette with electric hob,  microwave, toaster, teapot, complete dinner service set, fridge/freezer, complete bathroom, plus  hair dryer and cosmetic mirror. We satisfy all your requests on hand, with a professional 24 hour a day reception service.
 Gallery – Photos from last year and Mallorca 312 – click to enlarge
Yes there are a few pictures of yours truly in the gallery