Annual Dinner & Awards
8th November 2019 – 19.30-23.30
Hove Rugby Club
Hove Recreation Ground, Shirley Drive
Hove
The City of Brighton and Hove
BN3 6NQ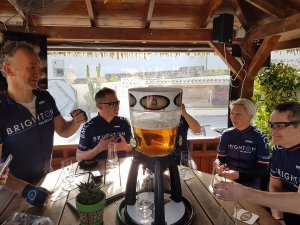 ESCA Reliability Trial 17th November 2019
The 2019 Reliability Trial for the ESCA Rally Shield will be held over a 50 mile course, with the start and finish at the East Hoathly Sports Pavilion, London Road, East Hoathly, East Sussex BN8 6QE.
Riders can choose one of the three events:
Event A – 4 hours with the first group off at 8:15am
Event B – 3½ hours with the first group off at about 8:45am
Event C – 3 hours with the first group off at about 9:15am
Groups of no more than 15 riders go off at 5 minute intervals to complete the course in the time declared. Please note that if there are a high number of entries in Event A it might be necessary to have a later starting time for Event B and Event C as keeping group sizes to no more than 15 must take priority.
The ESCA club with the highest combined number of successful finishers from all three events will hold the Rally Shield for one year. In the event of a tie, the club with the largest number of successful finishers in Event B and C will be declared the winner. The Rally Shield will be presented to the winning club at the ESCA prize presentation.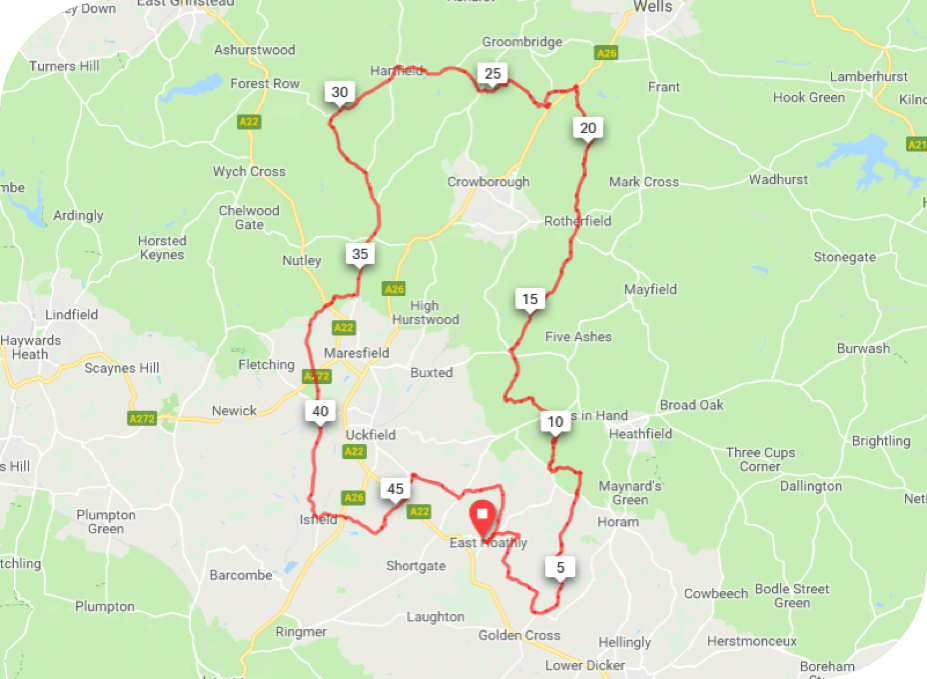 The route can be downloaded at the links:
Ride with GPS https://ridewithgps.com/routes/28492441
Garmin https://connect.garmin.com/modern/course/20571482
Entry Fee £5.00
Closing Date Saturday 9th November 2019
Enter Online Rider HQ
Event A (4 Hour) https://www.riderhq.com/events/89067/esca-reliability-trial—event-a-4-hours
Event B (3.5 Hour) https://www.riderhq.com/events/89068/esca-reliability-trial—event-a-3.5-hours
Event C (3 Hour) https://www.riderhq.com/events/89069/esca-reliability-trial—event-c-3.0-hours
You must be a member of an ESCA affiliated club and enter the event in advance as there are no entries on the day.
If you are under 18, you must send or bring a signed parent consent form with you on the day.
The Order of Start and Route Sheet will be emailed to each ESCA club Secretary for distribution to their riders if needed. These will also be published on the Brighton Mitre website http://www.brightonmitre.co.uk/?p=1745 and ESCA Facebook group www.facebook.com/groups/EastSussexCA
Once the order of start has been published riders cannot change the event they have entered, or their ride time so please liaise with your club mates before submitting your entry.
You will be required to sign on no later than 10 minutes before your start time. At the signing on point you will be given a control card to carry with you during the trial. Your control card must be stamped at each of the control points and handed in to the timekeeper/checker at the finish for your official finishing time to be recorded on your card. Your completed control card will be used to validate your ride.
By signing on you confirm that
Your name and club has been correctly recorded
You agree to ride in a safe manner in accordance with the law
You agree to place no liability on the organiser, ESCA or Brighton Mitre CC
You are a member of an ESCA affiliated club
The usual rules for reliability trials will be applied
You must complete the course
Have your control card stamped at each control point
Hand you control card in to the timekeeper/checker at the finish to enter your finish time
Your completed control card will be used to validate your ride
You may not pass the finish earlier than 10 minutes before your allotted finishing time
There is to be no racing between riders or teams