Ride report
Great fun and not without a little adventure
Nine of us headed out for Newhaven, 2 punctures a mechanical and crash on the way there – an auspicious start.  A few beers on the boat raised spirits for a quick kip until a very early start. Empty ferry and freezing. On collecting bikes the majority had punctures and even one water bottle had a pin hole puncture – hmm sabotage suspected.
So a hungry start through a deserted Dieppe out into the Normandy countryside – fantastic country side, rainbows and chateaus. Some light rain caught us but didn't dampen the fun. 50K later rolled into Neufchatel en Bray where the cafe was just opening. "Bonjour tout le monde, omelette? cafe?" the owner had seen cyclists before. The place is called Chez Jean Pierre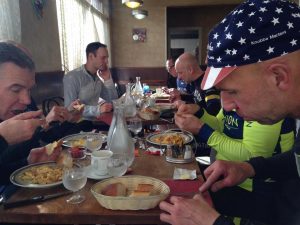 Powered and caffeine-d up enjoyed some brilliant empty undulating roads with some spectacular ridge rides and descents.  With Matt keen to pull us all along we rolled into Dieppe and found the Cafe des Tribunaux bathed in sunshine.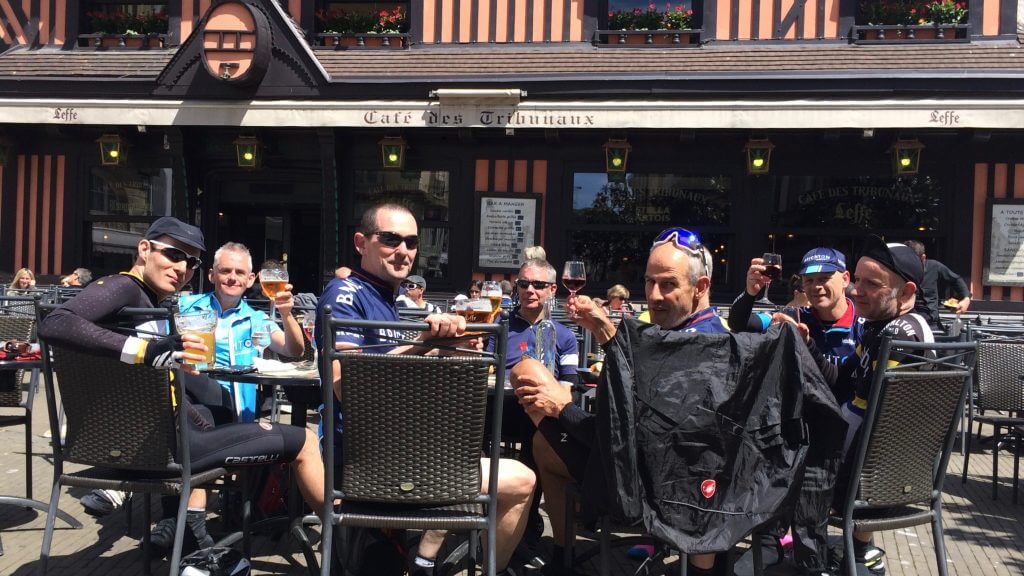 Fantastic meals and several Leffes and wines later we caught the ferry. A few more Leffes for some. Already planning the next one.
The route cobbled together from some Dieppe raid routes looped together with sections of the Avenue Vert worked really well. If we had had some bad weather or incidents there were a few opportunities for a quick run back to Dieppe.
Click for the the relive of the route  thanks Simon
Update
Route This will be the route – but i'm open to suggestions
https://www.strava.com/routes/8158259
Pace – a lot of questions on this – it is a social ride and we really can't drop people so target is 16mph average – but this depends on the group .  If the group goes off fast and we put the slower riders into the red thats bad news for everyone – so we keep the group together and work together. If the group goes fast and we all feel fine then ok but we will be sensitive to those who might be burning
I appreciate we have some fast/fit/light cyclists amongst us and if the pace is too slow – you go at the front – and do some hill repeats while you wait 😀
So if you want to come along and can manage a steadyish Saturday social you'll be fine and welcome
Details for the Dieppe 24 hour trip Sat 13th / Sun 14th May
Join us for a quick day trip to France –  really we live so close we should do it more often. Using the local Newhaven ferry we go overnight to Dieppe ready for an early start – plenty of time for ride round northern France, enjoy breakfast, coffee stops and maybe a cheeky beer and back to Brighton before anyone notices you've gone.
The best way to do this is to individually self book onto the recommended ferries, get your kit together and turn up at the Palace Pier ready for the 9 pm grand depart.
Saturday night (May 13th)
20:45 Meet at Palace Pier

21.00 prompt –  Ride to Newhaven  (9 Miles approx 45 minutes)

23.00 Ferry departs
Sunday (May 14th)
0500 Arrive in Dieppe 

05:15 Pre breakfast ride to cafe

Possible rides
( to be amended to include flat ride to NeufChatel en Bray for breakfast)

140km 

https://ridewithgps.com/routes/3985217 

( both rides stolen from the Dieppe Raid )

The 140km could take up to 7 hours or more ( depending on coffee stops and dragging fat blokes up hills (err me))
15:00 ish back in Dieppe for Coffee / Cheeky beers
16.45 latest Head for 18.00 ferry
18:00 Ferry

21:00 arrive Newhaven

22:30 latest back at the Pier  

Cost 

Bike and Passenger £37.50 need to self book at DFDS  DFDS ferrys clunky website

No savings available on group bookings – or by filling a van with bikes 
Let me know your coming
More info – based on experience (updated)

You will need lights – charged
Bikes need to be well maintained and so do you
Bring a multi-tool/spare inners/ pump etc.
Bring some chamois cream if you use it
Bring outer layers/ waterproof
Passport
Euros for food, drink and emergencies
Charge up that GPS with the routes loaded
Battery pack useful  – phones/Garmin don't last 24 hours
Very small backpack or just ram yer pockets
Just in case check your travel insurance / EHIC
Some snacks energy bars ( useful for pre breakfast leaving ferry)
Two water bottles
Questions?  PM me (Tony) on facebook